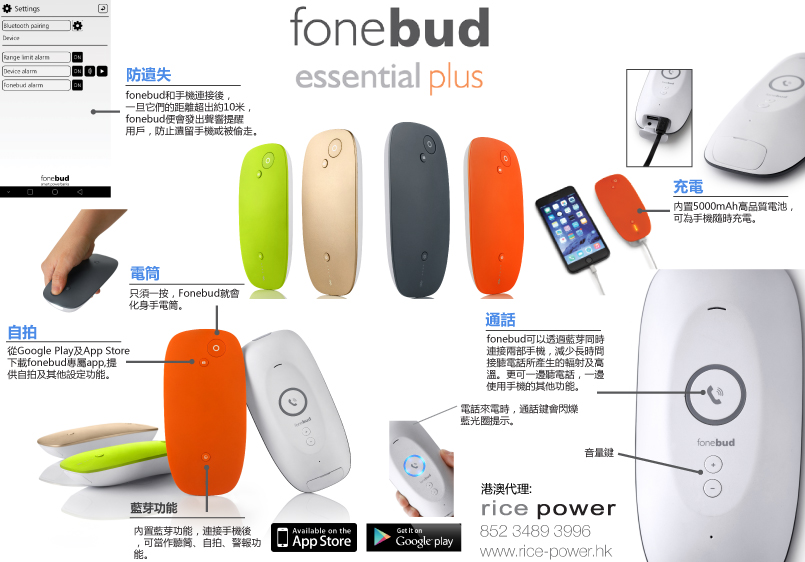 Tired of lugging a load of accessories for 'just in case battery runs out' moments? Look no further as the revolutionary fonebud is the only backup phone you'll ever need. fonebud is a lean multipurpose device that transforms into a standalone phone, functions as a powerbank, synchronizes with your smart phone via bluetooth connectivity and slides in as backup phone, just to name a few of its amazing and versatile features.
Unlike other bulky smartphones that are either too big for comfort or have an unbelievably short battery life, fonebud feels right in your palm as it has an easy grip and an ergonomically shaped body for your comfort.
You'll also love the endless talk time and selfie shutter. Who says functionality can't be fun?

Enter the fonebud. fonebud gives you longer talk time and it feels good in your hands. It doesn't become hot or go flat when you least expect it to. Plus, you can put your dainty smartphone away and let the hardy fonebud do all the work. You can take calls on the fonebud while using your smartphone to surf the net. fonebud even prompts you when your phone is away from its range detection radius. Cool, isn't it?

The fonedud Essential features:
- Bluetooth handset
- Bluetooth speaker
- Volume control
- 2 devices pairing
- Bluetooth range detector
- Selfie shutter
- Torchlight
Check and like us facebook.com/fonebud for the latest news about our products!